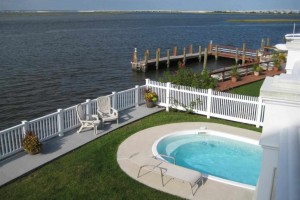 After what seemed like a never-ending winter, spring is finally here and in full swing, and it won't be long before everyone heads down to the Jersey Shore. While South Jersey vacation rentals are always a hot commodity, this year the rentals, particularly high-end rentals, have been going quickly.
According to a recent report, people have been making their summer vacation plans well in advance, and single family houses with in-ground pools are among the most popular. While relators experienced great business last year, early indications show this year will be even better. The increased business can be attributed to the tough winter, improved economy and the convenience of comparing and booking rentals online. Online rental listings include tons of pictures and videos, making it easy for vacationers to tour a property without having to leave the house.
After recently being named the #1 spot to buy a vacation home, Ocean City, New Jersey is a NJ beach town that beachgoers will soon be flocking to. If you are someone who frequently vacations in Ocean City, you should consider getting a vacation home. By buying real estate in Ocean City, New Jersey, you can extend your vacation. You can even rent your vacation home out to tourists and capitalize on the large number of people who are seeking vacation rentals at South Jersey beaches.
Ocean City is the prime spot for purchasing a vacation home because of its famous boardwalk, family-friendly attractions and amazing beachfront views. Stretching for 2.5 miles, the boardwalk has tons of exciting things to do for beachgoers of all ages. It's filled with many great shops, arcades, amusement rides, restaurants and miniature golf courses, making this charming beach town particularly great for families. Yet, if vibrant nightlife is what you are after, Ocean City is only a short drive to the Atlantic City bars, clubs and casinos. In Ocean City, you can enjoy the tranquility of a quaint beach town and still enjoy the nightlife nearby.
If you are considering buying or renting a home at the Jersey Shore, there are plenty of homes for sale and rent in Ocean City, NJ. Visit Ocean City Home Search online to check out our current real estate listings.
Click or call 1.609.399.0041 to inquire about listings or rentals.