The Wall Street Journal Announces Ocean City, NJ is the Best Place to Buy a Vacation Home in America
January 6th, 2015 by OCHS
In exciting news for Ocean City property owners, The Wall Street Journal announced "America's Greatest Family Resort" as the best place to buy a vacation home in America.
The report, which was released on MarketWatch.com and was based on the findings of the reputable online real estate listing service Trulia, tabulated the top ten most sought out vacation homes on their site between April of 2012 and March of 2013. To be eligible as a vacation home destination, a town or city had to have at least 25% of their housing owners be occasional or seasonal users. The report also took into consideration the median asking price of vacation homes in the area.
The demand for property in Ocean City, NJ can be linked to many factors. The first factor being that the tagline of "America's Greatest Family Resort" is well deserved. As a dry town that doesn't feature the bars or casinos of neighboring towns, OC is the perfect family centric destination for real estate investors. Beautiful beaches, a famous boardwalk, and a population of less than 12,000 people keeps the demand for property high.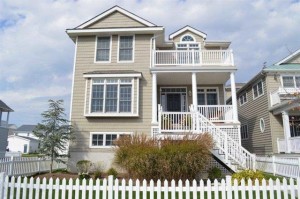 In the aftermath of Hurricane Sandy, many real estate investors were looking for new homes. Property prices had a major drop-off for a brief period after the storm and the rate at which property was being bought quickly helped those prices rebound.
Ideal locations were a common thread throughout the ten locations listed in the MarketWatch.com piece. Ocean City, NJ was no exception with the proximity to the greater Delaware Valley being a major contributing factor to demand.
Other towns on the exclusive list include: Cherry Grove Beach, SC. coming in at #10 with a median asking price of $219,900, Big Bear Lake, California coming in at #6 with a median asking price of $335,000, Ocean City, Maryland coming in at #4 with a median asking price of $275,000 and nearby North Wildwood, NJ coming in at #2 with a median asking price of $289,000.
Read the Wall Street Journal's full Slideshare here: http://www.marketwatch.com/story/10-best-places-to-buy-a-vacation-home-2013-05-27?siteid=yhoof2