OCNJ Boardwalk Reconstruction Continues to Make Good Progress
January 6th, 2015 by OCHS
As a phase of a multi-year product to rebuild the Ocean City Boardwalk and its substructure between fifth and 12th streets, demolition of the Ocean City boardwalk near Seventh Street began in mid-October. This is the second phase of many, which includes demolition and rebuilding from Sixth Street to Plaza Place (just north of Seventh Street).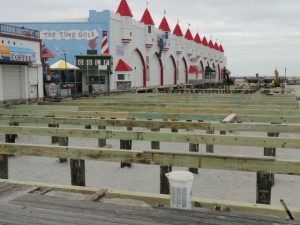 Construction for this phase is set to continue until Easter Weekend (April 4 and 5), though work seems to be proceeding fairly quickly compared to a similar project that took place last winter. Improvements include reconfiguration of the boardwalk ramp at Sixth Street, eliminating the north ramp, and widening the south ramp. This phase of the project is authorized to spend up to $1,825,000.
Pedestrians, cyclists, and runners are being detoured off the Boardwalk in the meantime, adding an extra .17 miles to their route. From Seventh Street, they are being sent down to Wayne Avenue, leading to the municipal parking lot between Sixth and Fifth Streets, and back to the boardwalk at Fifth Street. Fred M. Schiavone Construction Inc. is the contractor for this phrase of the project, as they were for the first phase of the project between Fifth and Sixth Streets, as well as the new Welcome Center on the Route 52 causeway.
Pilings and joists are in place across approximately one third of the project area. Decking construction is occurring off-site.